that's the look of Georgia in the native georgian language. It sounds Sak'art'velo.
In September 1999 I made a trip through these caucasian republic. It was a very interesting and beautiful tour. Here you can see photos.
First I visited the capitol Tbilisi, where I arrived by plane. Next I walked one week through the Little Caucasia around Bakuriani.
After that, I made a "really" mountain trip. I was trying to go to the top of the 5.033m high Mt. Kazbek. This peak is around 100 km north of the capitol. These trip lasted one week, including the transfer to the village near the peak.
Subsequently I made a culture trip. I visited Gori, the hometown of Stalin, the very old cave city Uplisziche (it's near Gori and was founded before Christ), Kutaisi with the Gelati monastery, Akhaltsikhe und at last the very famous cave city Vardsia.
After this culture trip, I needed time to relax. I went to the coast of the Black Sea in Ureki. I spent some days at the beach and after that I went back to Germany by plane.
More about Georgia you can find at http://members.tripod.com/ggdavid/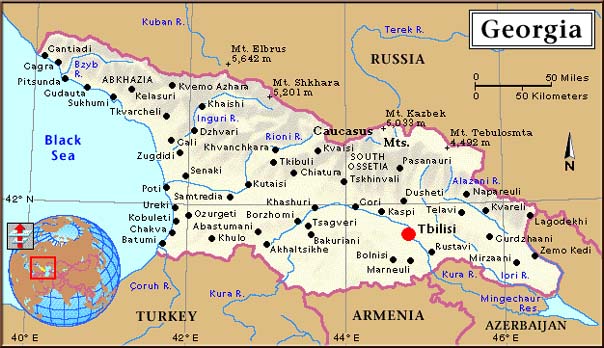 ---

PGP: 2048R/344645AD 1999-12-23 Key fingerprint =  41 25 B8 E2 7B B8 4D 65  96 3C C3 A3 7F 4E 23 1C
GPG: 1024D/CCE57720 2002-02-06 Key fingerprint = CB95 DA11 6FC9 8B49 D3E7  BEF6 E6BD 9BCA CCE5 7720